Docker
Cap style: Docker / Beanie
Details: cut above ears, trimmed seams, airy (no lining)

Sweatband: cotton

Fabric: 100% softened cotton (emerized)
Ready to ship in 2 buisness days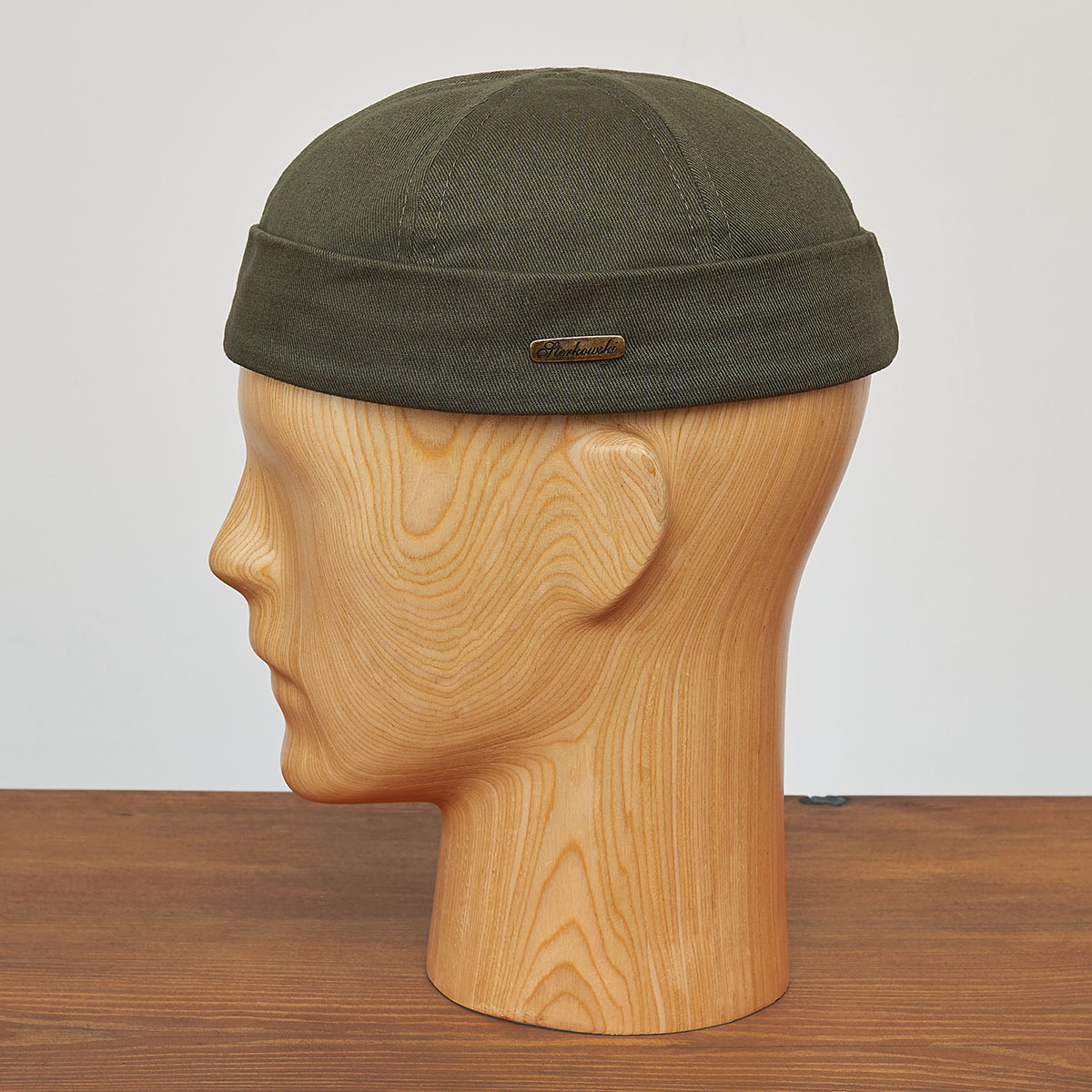 A comfortable and breathable docker cap made of 100% softened cotton (emerized). Its cut is above ears. Pure cotton fabric and no lining inside make this hat a very airy one - perfect sailor, military, hunting cap for warmer spring and autumn days.
This model of lightweight longshoreman hat will protect you from cold and wind on the sea and on the waterfront, during shoulder seasons. A headgear inspired by the movie ''Léon: the professional''. Available in big xxl and xxxl sizes. Good old world craftsmanship from Poland.
Products from the category "Mask" can not be returned or exchanged for hygienic reasons.
EXCHANGE

The most frequent reason to exchange a hat is its incorrect size. Therefore before buying, please read our guide: "How to measure your head size" 
1. Send us back the product that you bought within 30 days from receiving the parcel, in its perfect state, with all the labels.
2. Add a note inside the returned box with all the necessary information: which size and model do you want to receive, your order number / surname.
3. Please protect properly your product in a package. In this case, you will be responsible for covering the return shipping fee. Keep the tracking number of parcel. You can also add a paper belt / string with marked your head size it will help us to find a proper hat for you.
4. Within 14 days from receiving your parcel, we will start the process of exchange. If we will need any other information from you we will contact you.
5. If you exchange your headgear for another model, for example for the more expensive one, then you will have to cover the price difference. If you exchange your headgear to a cheaper model we will reimburse you the price difference.
6. We will ship your new size by the cheapest shipping option.
RETURN 
1. According to existing valid regulations, within 30 calendar days from the product's delivery date, you have the right to return it without giving any reasons and withdraw from the contract.
2. Send us back the product that you purchased in its original state, not damaged and not worn, with all the labels. Please protect properly your product in a package. In this case, you will be responsible for covering the return shipping fee.
3. Add a note inside the returned box with all the necessary information: your order number / surname and that it is a return for a refund. Keep the tracking number of parcel.
4. Within 14 days from receiving your parcel, we will check the state of the product (if it hasn't been worn or damaged).
5. If there won't be any impediments, we will refund your money. If your return request will be denied (because of the product's damage or traces of use), we will let you know by email.
RETURN ADDRESS:
Kompania Handlowa im. Piotra Piano
ul. Margerytki 12
04-906 Warsaw
Poland
Reviews
By
Ross R.
on 05 Dec. 2021 (
Docker
) :
Incredible workmanship!
I have several of these caps and I love them! As a photographer it keeps my hair in place and allows me to see through the viewfinder unlike hats with bills that I was always flipping around during shoots. I always get positive comments about my caps and I have recommended Sterkowski as THE place to buy a hat!
By
Justin A.
on 29 July 2021 (
Docker
) :
Simple and Stylish.
Bought one of these in size 58 and it fits me perfectly. Works with longer and shorter hair which is great because I personally look like an absolute mess of human being. I'm not so self-absorbed that I'd rate myself on a attractiveness scale, but if I had to guess I believe this gives me an extra point; balancing out my muggy looks with a semblance of style.

The pin-striped one is the absolute best way to go and honestly feels incredibly light and breathable on the head. My only recommendation is that you get one that fits to the closest diameter of your head, otherwise it will easily move around and potentially fall off if you don't have a tight fit.


Also, on a side-note, I'm a buyer from the U.S.A.
By
edd M.
on 15 July 2021 (
Docker
) :
My docker hat
After looking all over eBay for this style of hat I found Sterkowski hats. Decided to go direct to them. I was a little sceptical at first about the quality and come from another country. But after receiving my hat I have to say I'm really happy with it. The quality is great the stitching is perfect. It's a flex fit too not a snap back so I'm not going to get tan lines (bald guy). I love the hat box it arrived in too. I will be buying a tweed and woollen one for winter no questions asked.
Thank you for a great hat and a great service

Edd
Lincolnshire England
By
Rick K.
on 01 July 2021 (
Docker
) :
Excellent workmanship
Ordered in the middle of May and received it today June 30. I am happy with the Docker cap and the time it took to get all the way to Canada. I examined it closely and it is well made. I can't get anything like it here. Great to wear under a bicycle helmet.
By
Thomas M.
on 19 May 2021 (
Docker
) :
Hoping for the best.
Last year I purchased the NAVY WATCH in black and it had the 3 "C's", comfort, compliments, and coverage. So I am taking a chance on the Dockers (One Tan and one Olive Green) in cotton for summer. Hopefully, they are as well designed and comfortable as the Navy Watch. I recommend the quality and the comfort and expect compliments.
By
Yasser K.
on 19 Apr. 2021 (
Docker
) :
Sterkowski is all-weather.
These Dockers are perfect for every weather, even in the desert heat. I'm wearing this cotton Docker every day at work in the hospital. It protects from the strong Air conditioning hitting my head inside the offices and from the direct sun outside. They are stylish and looks better than the usual doctor's head cover. Love Sterkowski.

By
Carlos V.
on 15 Apr. 2021 (
Docker
) :
Cool as heck!
These beanies are so dang cool! They feel super soft on your head. These are made with very high quality cotton, your skin will thank you once you put one of these bad boys on. Very light weight and practical, easy to take on and off.

If you don't wan't to court a lot of attention, these caps are for you. You'll blend in, yet stand out in a very subtle way. Wanna look extra cool? Tilt this beanie to the side.
By
PATRICK T.
on 28 March 2021 (
Docker
) :
Merci
Docker, de qualité. Parfaitement ajusté à mon tour de tête. 58.5 cm j'ai pris du 59 et c'est parfait.
La coupe et le tisu me conviennent parfaitement.
By
John S.
on 01 March 2021 (
Docker
) :
New look
Wasn't sure about a brimless hat but after receiving it, I love it. The quality is amazing, prices are good, as well as, the fit and finish are top notch. Took a little time to get here, but alot of that was because of customs. I will be ordering from you again and have already started referring family and friends to you for your variety of hats and caps. Thank you
By
Joshua B.
on 12 Feb. 2021 (
Docker
) :
My first Sterkowski
This is my first Sterkowski and it isn't my last (just ordered the Sugarcane fedora an hour ago). I've never worn this style of hat and I wonder why I hadn't before. It is well-made and fits perfectly. I can't wait for my next one to come!
By
Todd B.
on 08 Jan. 2021 (
Docker
) :
Docker
I was looking for a Docker style hat, when I came across Sterkowski hats. I really liked what I saw, so I ordered one. This is a quality well made item that fit's really well. Very pleased with my purchase. Todd. B
By
Dee B.
on 10 Dec. 2020 (
Docker
) :
DOCKER/BEANIE
I received my beanie and felt very good about the shipping time, considering the events that are happening worldwide. This is my second beanie and it is just as well made as the first one. I wear this type of headgear in my shop and it gets pretty dirty and needs to be washed regularly and these stand up well with constant washings. This has got to be the best well made and comfortable beanie on the market. I can't express how much I like this product!
Highly recommend them and will order again! Thanks Dee Baxter
By
Desmond R.
on 02 Dec. 2020 (
Docker
) :
Well made and fits like a glove.
I recommend this docker to anyone seeking a properly fitting cap without adjustment strap/velcro. The material is a soft moleskin touch, a fine tactile experience. I have yet to try its breathability in warmer weather but am optimistic that it will wick sweat away very well.
By
Mark M.
on 02 Dec. 2020 (
Docker
) :
Docker Beanie
This hat is so wonderful. It is well made and they are so attentive to the sizing as I have always struggled to find a larger size. This fits perfectly. I bought the black wool hat.
I have not had a brimless cap for years. Yesterday I ordered two more in the cotton fabric.

Very fair price and shipping. Arrived quickly.

The quality is apparent. Reminds me of "old world workmanship" with the attentions to detail.

Thank you so much.

Mark from the USA.
By
Scot S.
on 24 Nov. 2020 (
Docker
) :
Navy Cotton Docker
I get so many compliments on this hat. It is lightweight and very breathable. Perfect for the changing seasons. I have about 10 hats from Sterkowski and every one of them is made with the best quality. You can't go wrong!
Customers who bought this product also bought:
Product added to wishlist