Transitional seasons are when we make the greatest demands on our headwear. This is when we experience the most changeable weather conditions. Our headwear needs to keep us comfortable and protect our heads during this time. It also needs to suit different styles and occasions and be attractive to the wearer. It should also be compatible with your lifestyle and activities. So how do you choose the perfect hat for spring and autumn? Of course, "it depends". Here are some suggestions.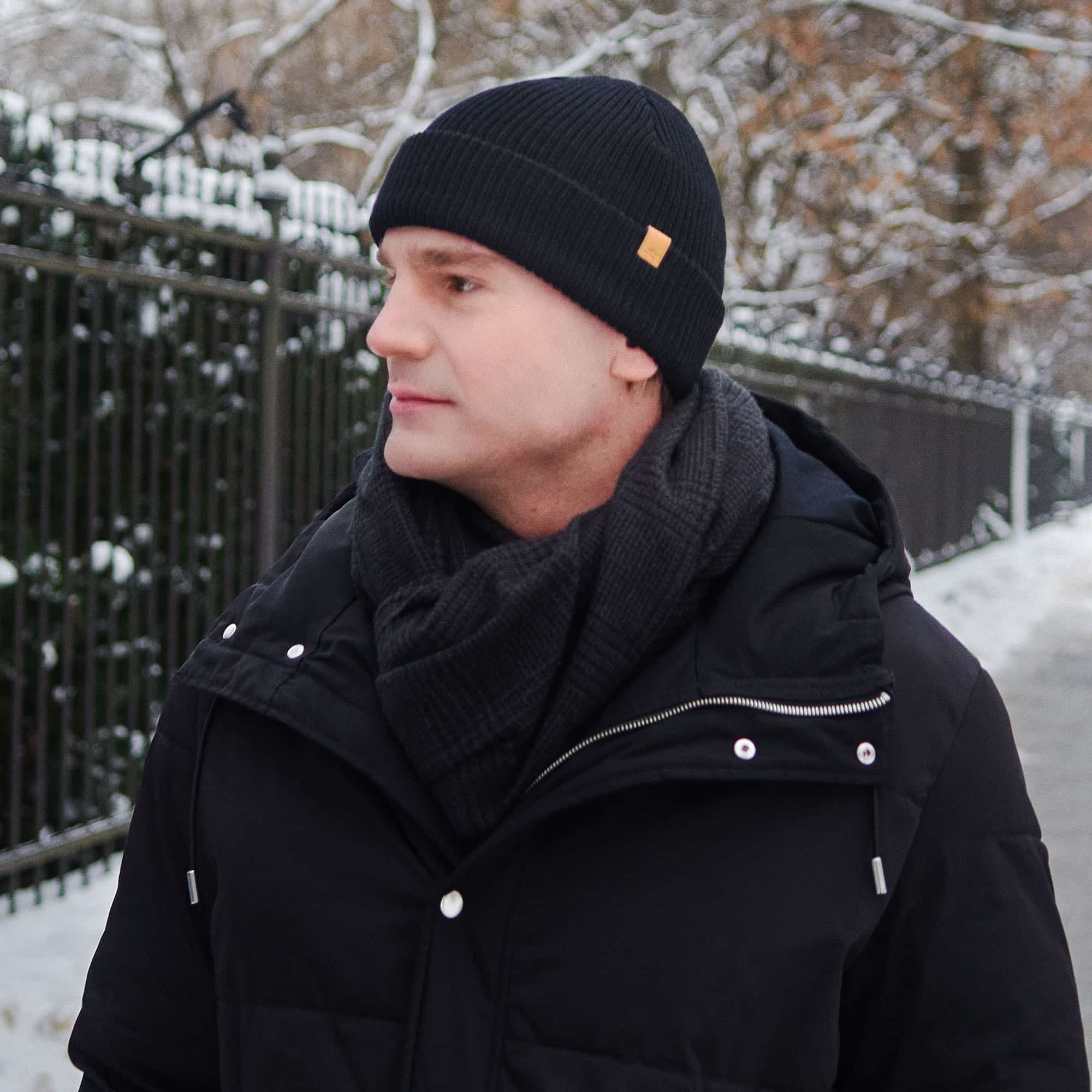 Beanies and Dokers – practical caps
If you are looking for a hat that is practical, comfortable, and warm, go for beanies. This is a type of knitted hat that adapts to the shape of your head and keeps it warm, providing very high thermal comfort. Beanies are available in many colors and patterns so you can easily match them to your wardrobe. Beanies made from natural materials such as merino wool or cashmere are available on the market. Thick merino knit beanies are especially recommended for the coldest seasons. The knitted material of these beanies is very warm and will be perfect for even the coldest days. For many people, the fact that these beanies protect the ears is also an advantage. Thinner knit styles or those made from a blend of cashmere and merino wool are options for more moderate cold weather. In recent years, a short cut over the ears, often called "docker caps", has become very fashionable. Among other things, it is popular for its practicality. Many people wear these comfortable and warm hats indoors, often without taking them off for most of the day.
Men's flat caps and newsboy caps – elegant headwear
If you're a fan of classic elegance and good materials, consider choosing a newsboy cap or flat cap. These are hats with a traditional and timeless cut that are perfect for both everyday casual and formal outfits. Flat caps and men's newsboy caps are sewn from very fine, high-quality fabrics such as Harris tweed, wool cloth, leather or waxed cotton. These natural fabrics are a great choice for transitional seasons. They are comfortable to wear and offer high breathability and thermal comfort. In recent years, the range of hats on the market has become very wide. Everyone should find something for himself. In this group of designs we can choose from caps with one panel to caps with five, six (duckbill caps) and eight panels (newsboy caps). Each of these styles sits slightly differently on the head, making it possible to choose a style that fits your personal preferences and face shape.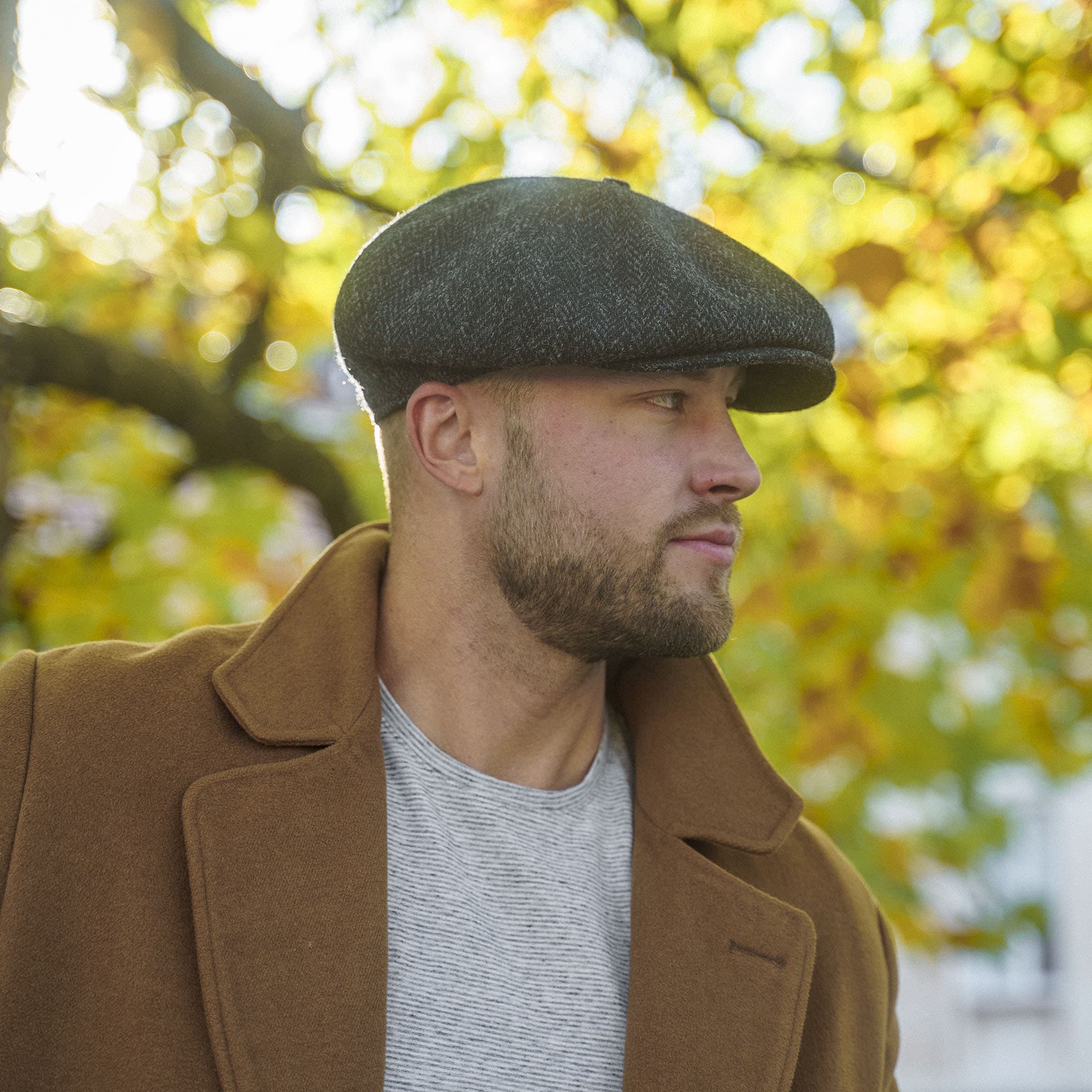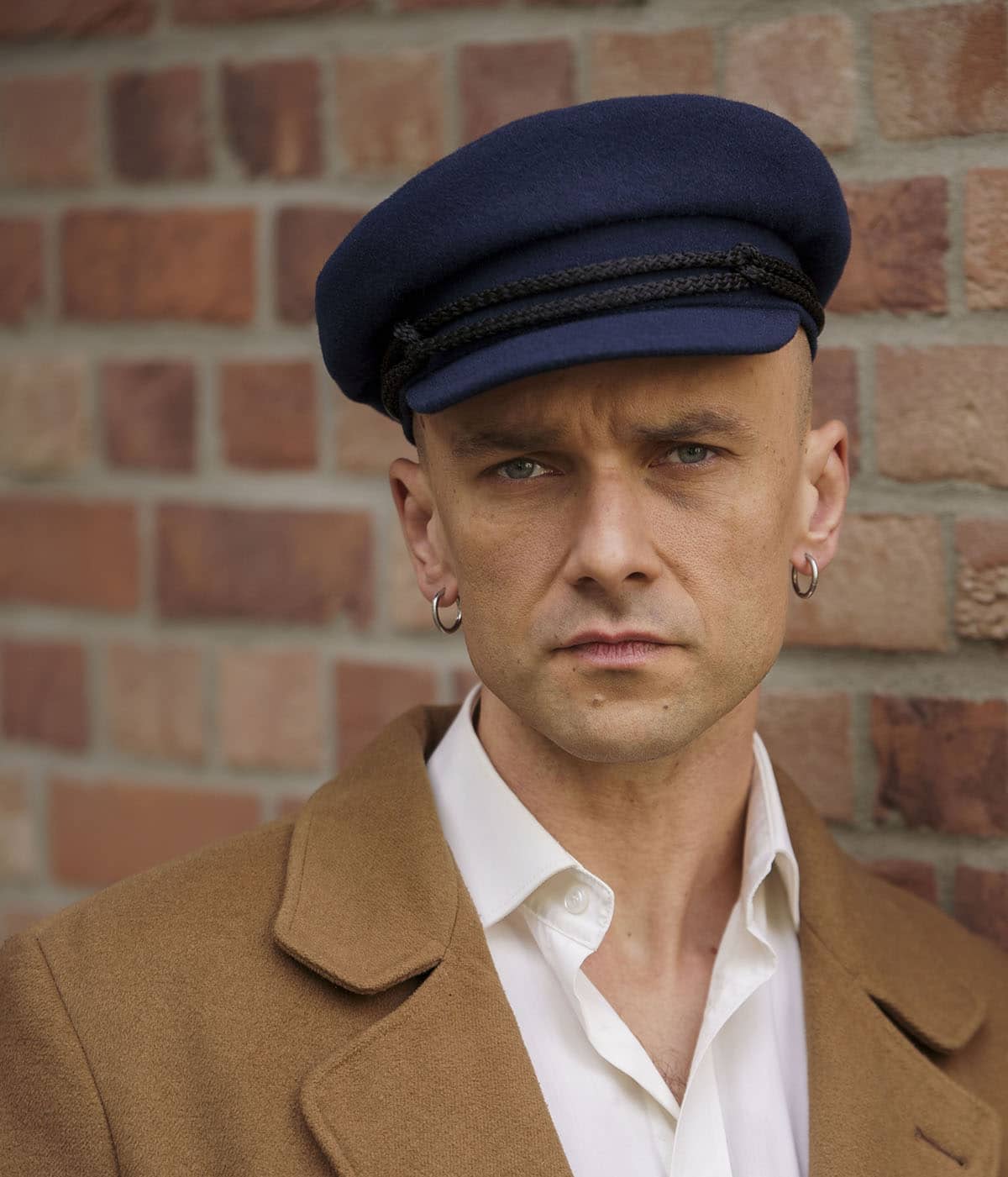 Breton caps – traditional landed gentry caps or nautical caps
If you prefer caps with a nautical twist, but don't want to give up the high-quality fabrics and practicality of a cap, check out breton caps and nautical caps. These interesting caps have different associations in different parts of the world. In Central Europe, they are mainly associated with the landed gentry and peasantry. In Southern and Western Europe, they are associated with seafarers. These extremely comfortable hats, characterized by a round crown and a short visor, are still appreciated for their aesthetic and practical qualities. In recent years, they have even experienced something of a renaissance, appearing on the heads of celebrities as bossman caps. Among those who appreciate classic elegance and who refer to the traditions of fashion for decades, they remain invariably known as breton caps, breek fisherman's caps or sailor's caps. Among those that we can recommend especially for the transitional seasons, we recommend breton and sailor caps sewn in wool, Harris tweed, cotton and waxed cotton.
Wool or felt hats – classic elegance
Functionally, the hat is the optimal headgear for the transitional seasons. Made of felt or wool, it keeps you warm. The brim protects from the weather and the sun. There is a reason why it was an everyday headgear in places where nature could be capricious, temperatures varied and people spent a lot of time outdoors. In recent years, the fashion canon has loosened up – many people wear the classic fedora with a casual, everyday outfit and look great doing it. Once associated with very sophisticated creations, hats no longer have to be intimidating – they can even be worn with a t-shirt, flannel shirt or parka jacket. If felt hats still seem a little too obliging, consider bucket hats in waxed cotton or Harris Tweed – also perfect for spring or fall, but with a much less obliging cut.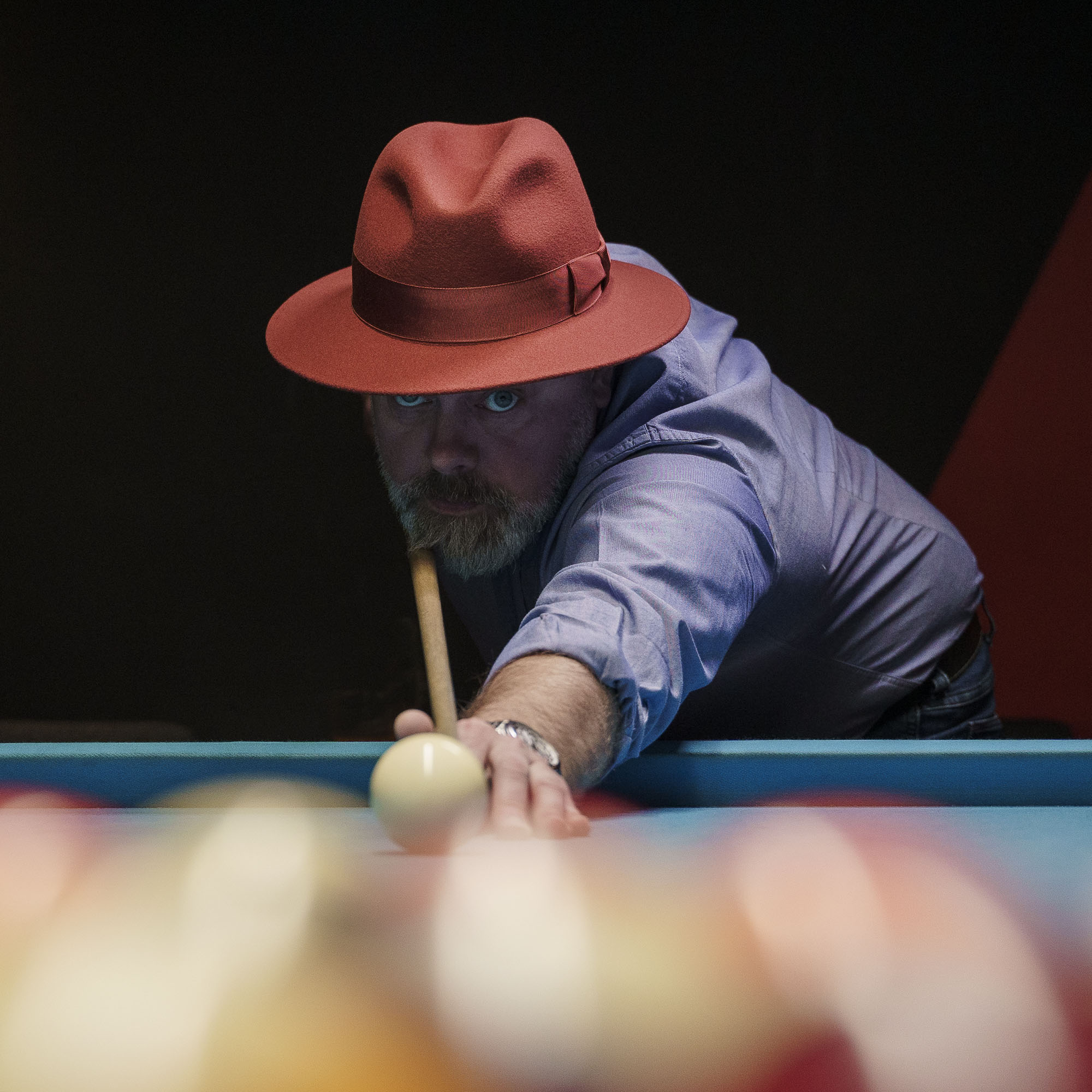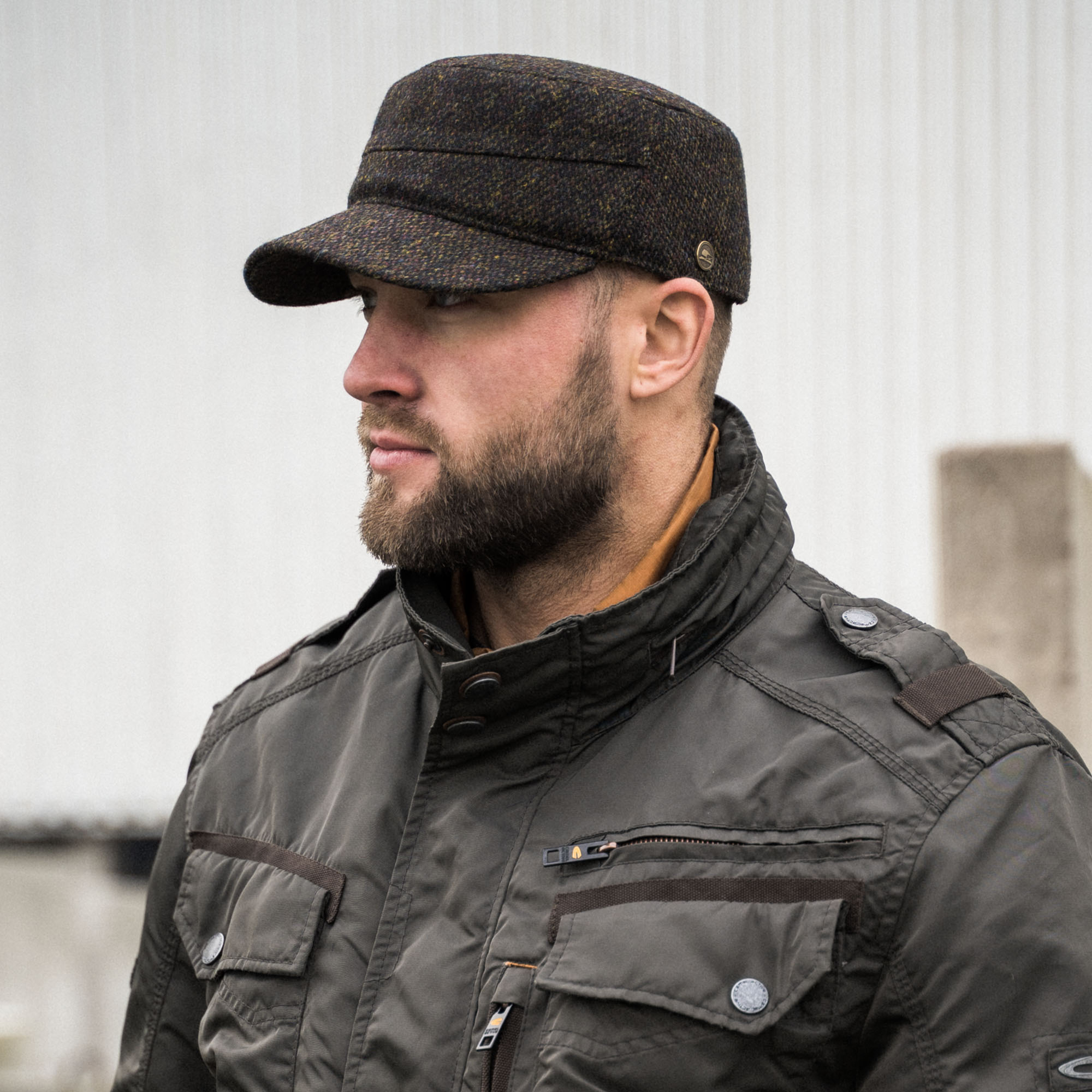 Baseball caps and patrol caps – the essence of utility and comfort
Both are caps of similar shape but different pedigree – one sporty, the other military. Both combine a purely functional and utilitarian cut. They are an excellent option for those who appreciate a simple, unpretentious and practical cut. A significant part of the cap models in this group have an adjustment strap on the back of the head, which allows you to adjust the size and gives you practically one hundred percent certainty that when you buy a cap, you will hit the right size. This is also important if you are looking for a cap to give as a gift. When you choose a cap of this type, you do not have to sacrifice the comfort provided by high-quality materials. There are baseball caps on the market made of Harris tweed, waxed cotton, wool, cotton, and leather. For the colder days of the transitional seasons, caps with earflaps can also be a good choice, as they effectively protect the ears from the cold and wind.
Transitional seasons do not have to be a problem for our wardrobe choices, at least when it comes to headwear. There are many hats and caps on the market that will meet all or most of our expectations. Whether we are guided by purely practical considerations, by aesthetic ones or, finally, by the choice of a material that offers optimal comfort, we are able to find optimal solutions.
Related products