Sugarcane
Ideal summer hat made of cool and more crushable than straw linen.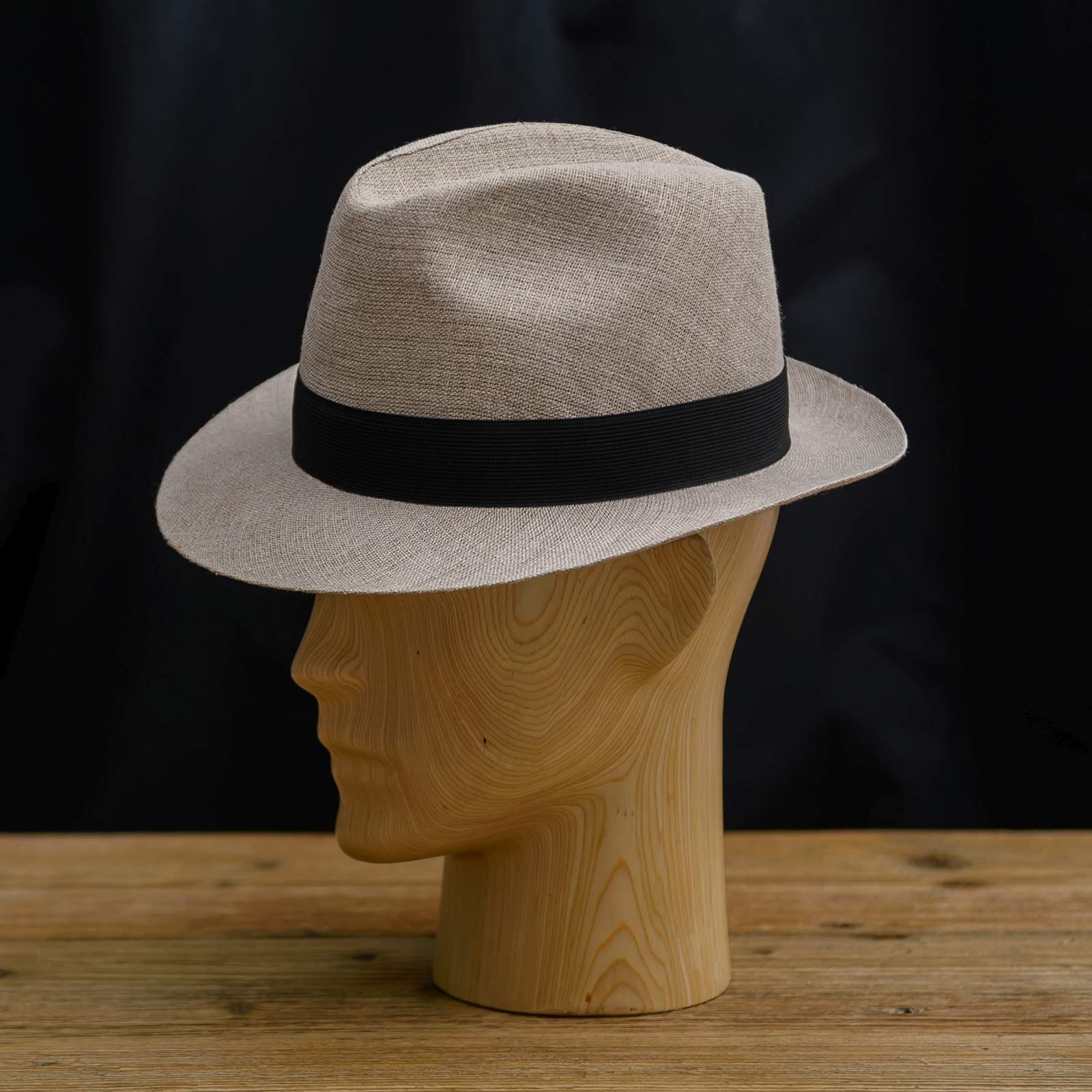 Product description
Hat style: summer Fedora

Details: removable black band
Fabric: linen
Brim: front ca.6 cm/2.4 inch
Crown height: ca.12 cm/4.7 inch
A very lightweight and breathable summer Fedora wide brim hat. Hat is made with pure natural linen. Its sweatband is made of breathable cotton, lining is made of linen. The elastic decorative band on the crown can be easily removed.
A good choice for warm summer days. This linen fedora hat  gives a good protection from sun, but still remains elegant and comfortable. Linen fabric is a great choice for summer – lightweight and breathable, protects well your head from the sun and doesn't heat up.
A hat in a very similar style to the Corleone family, from the movie ''The Godfather''. Available in big xl and xxl sizes. Good old world craftsmanship from Poland.
Product: New | Warranty: 24 months | Worldwide Delivery 9$
Reviews
By
Simon H.
on 17 Sept. 2021 (
Sugarcane
) :
Probably the best summer hat I have
I love wearing mine very much.
It looks so cool even my grandma wanted and got one.
Don't ya laugh, she is the fashiest old lady around.
Vivienne Westwood knows nothing about fashion compared to granny.
By
Sheikh Mohamad S.
on 03 Sept. 2021 (
Sugarcane
) :
Utterly happy with the hat!
It's a beautiful hat! As you hold and wear it, you just know that it is a superb piece of craftsmanship. I am utterly happy with it!
By
Nilsa R.
on 31 Aug. 2021 (
Sugarcane
) :
Summer Fedora
I am a woman in my fifties that has been enjoyig using hats since I was 13 years old.
Your hat was the best summer fedora I have ever bought. It fits perfectly, the dimensions are accurate and it is very aesthetically pleasing. And the construction what we all come to expect from you. It has received so many compliments already! Thank you for my beautiful hat!!!!! Do you have the same hat in wool?
Thank you for your product review on our website. We always welcome feedback! :)
We have the wool type of this hat we call it Corleone.
https://sterkowski.com/hats/225-8021-corleone-fedora-wool-wide-brim.html#/73-size-60_cm/176-color-black
By
Jeffrey S.
on 04 Aug. 2020 (
Sugarcane
) :
Excellent hat and service
This is my second hat from Sterkowski and I have been very pleased with the products and service offered by the company.
By
Sanzharbek Z.
on 03 March 2020 (
Sugarcane
) :
Amazing quality!
Obtained one of Sugarcane hats. It is lightweight and sturdy for everyday use. Very nice classic look and feel.
Had to give away as a gift to father ))))) since father insisted on having this great hat!
Now, I need to buy another one for myself.
By
Mitchell S.
on 17 Sept. 2019 (
Sugarcane
) :
love my hats
This has to be my 10th hat I have purchased and they are all beautiful works of art. they always look just like the pictures and the quality is amazing. Sizes are true to styles. Thank you so much for your craftsmanship
By
Selcuk T.
on 04 Nov. 2017 (
Sugarcane
) :
Great item, fast shipment
Great item, fast shipment